HMI > X2 marine
X2 marine
Beijer Electronics [Sweden]
Built for life at sea

X2 marine offers user-friendly, reliable operation offshore, on ships and in other maritime applications. With black frame and nautical society certifications, X2 marine panels are suitable for mounting on the bridge, in the engine room and inside cabins.
X2 marine panels are available in 7 and 15 inches with optional high brightness display and integrated CODESYS PLC functionality.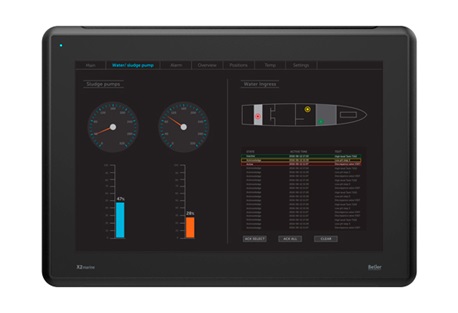 ●X2 marine 7
7" HMI with iX runtime


●X2 marine 7HB
7" HMI with iX runtime


●X2 marine 7SC
7" HMI with iX runtime


●X2 marine 7HB SC
7" HMI with iX runtime


●X2 marine 15
15" HMI with iX runtime


●X2 marine 15 HB
15" HMI with iX runtime


●X2 marine 15 SC
15" HMI with iX runtime


●X2 marine 15 HB SC
15" HMI with iX runtime