HMI > X2 control
X2 control
Beijer Electronics [Sweden]
Integrated CODESYS control

X2 control panels combine industrial HMI and CODESYS PLC functionality in the same compact hardware. Panels range from ultra-compact 4-inch to 15-inch panels designed for demanding applications. Add standard distributed I/Os and you'll get an elegant, scalable and cost-effective solution that's cutting-edge.
X2 control panels are available in 4, 7, 10, 12 and 15 inches.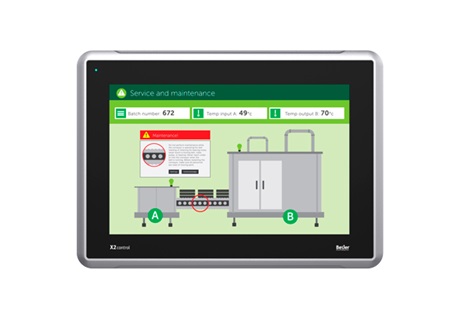 ●X2 control 4
4" HMI with iX runtime and CODESYS soft control


●X2 control 7
7" HMI with iX runtime and CODESYS soft control


●X2 control 10
10" HMI with iX runtime and CODESYS soft control


●X2 control 12
12" HMI with iX runtime and CODESYS soft control


●X2 control 15
15" HMI with iX runtime and CODESYS soft control